"I feel that probable cause exists to believe that CHARLES O'BRIEN has used JOSEPH GIACALONE's automobile to facilitate an abduction of HOFFA," an FBI Agent proclaimed in an affidavit on August 8, 1975, nine days after Jimmy Hoffa disappeared from a parking lot near a popular restaurant in Bloomfield Hills,. Michigan.
Charles O'Brien is also known as Chuckie O'Brien, Jimmy Hoffa's long-time right-hand man, and my stepfather since I was 12 years old.  Joseph Giacalone is the son of Anthony Giacalone, a deceased Detroit organized crime figure and someone that Chuckie, and I (when I was a boy), called "Uncle Tony."  Joey's car was a 1975 maroon Mercury Marquis. Chuckie borrowed Joey's Mercury on July 30, 1975, and drove to the Detroit suburbs to deliver a frozen salmon to a friend.  The FBI in 1975 believed that after Chuckie delivered the salmon, he picked up Hoffa in the Mercury and delivered him nearby to his killers. The probable cause affidavit was used as a basis to seize the Mercury.
The Hoffa case is still open, the FBI still possesses the car, and, in the public mind, Chuckie is still the leading suspect.  Here is a recent picture of the 1975 Mercury in a FBI warehouse in Detroit.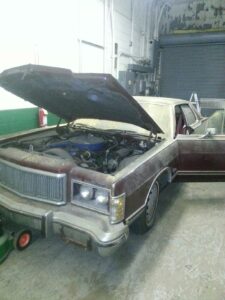 And here is a picture of the car's backseat, more than four decades after the FBI tore it up looking for evidence.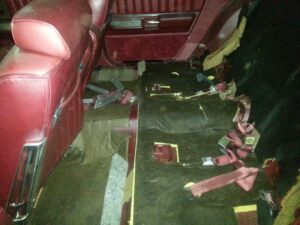 The FBI in 1975 found a hair in the backseat that was later determined to be a DNA match to Hoffa.  Scent dogs also detected Hoffa's scent in the car.  (Under threat of judicial order, the Bureau purchased the car from Joey Giacalone for $6,000 in 1977, and they used it for a long time as an FBI mail and package delivery vehicle.)
These are but some of the reasons why the FBI originally believed that Chuckie O'Brien was involved in the crime. And ever since, the public has believed it too.  A dozen books and thousands of news stories have repeated the original FBI theory that Chuckie picked up and delivered Hoffa.  Google it, and you'll see.
But as I show in my new book, In Hoffa's Shadow, out next week (Tuesday, September 24), Chuckie did not pick up Hoffa that day and Hoffa was never in that Mercury.  The 1970s FBI theory is wrong, and the lead FBI investigators on the case, and other government officials, have not believed the theory for decades.
It took me seven years of hard work to figure this out, and to figure out a lot more about the disappearance and its run-up.  I believe that, despite my acknowledged interest in the case, my book presents the most objective, fair-minded, and revealing assessment of Hoffa's disappearance to date—one that sheds authentic new light on the case and the era in which it happened.  While I believe the book exonerates my stepfather, I did not figure out who actually did the deed.  But I do report in the book who the FBI today thinks did it; it is an account far different from the ones floated publicly for 44 years.
In Hoffa's Shadow is about much, much more than Hoffa's disappearance.  My work on the book started with that focus, but the project over time grew much bigger and more ambitious.  It became a larger story about Chuckie's extraordinary relationships to Hoffa and Anthony Giacalone, set against the backdrop of the rise of labor and organized crime in the 20th century, and government efforts to squelch both.  And it also became a story about my relationship to Chuckie.  When I was in my twenties, I renounced him and caused him enormous pain.  Decades later I sought his forgiveness, which he gave, completely and instantly.  Chuckie taught me a lot in and after our reconciliation: about love, loyalty, and forgiveness; and about government overreaching, injustice, Hoffa's true relationship with organized crime, and Omerta.  I explain all this in the book.  I also explain why Mario Puzo modeled Tom Hagan on Chuckie; why Bobby Kennedy's vendetta against Hoffa ironically weakened labor unions and empowered the mob; how Hoffa's efforts to regain control of the Teamsters union in the 1970s intersected with the Watergate scandal; and much more.   
Below are some of the blurbs for the book and a few early reactions, for all of which I am grateful. The book is out next Tuesday, September 24.  I hope you will pre-order it: Amazon, Barnes and Noble, Powell's, IndieBound, and Books-A-Million.
* * *
"In Hoffa's Shadow is a masterpiece and a page-turner―I couldn't put it down. Brilliant, suspenseful, and deeply moving, it offers a personal view of one of the greatest unsolved crimes in American history. At the same time, it offers startling insights into organized crime, the labor movement, and the surprising origins of today's surveillance state. Beautifully written and full of unexpected turns, this book is gripping and revelatory from start to finish." ―Amy Chua, professor at Yale Law School and author of Battle Hymn of the Tiger Mother and Political Tribes: Group Instinct and the Fate of Nations
"A thrilling, unputdownable story that takes on big subjects―injustice, love, loss, truth, power, murder―and addresses them in sentences of beauty and clarity informed by deep thought and feeling. Goldsmith, one of the finest minds of his generation, has told an insane tale with a storyteller's flair. This is one of the best works of autobiography that I've read in a very, very long time." ―Bill Buford, former fiction editor of The New Yorker and author of Heat and Among the Thugs
"In Hoffa's Shadow by #HLS Professor @jacklgoldsmith is one of the most remarkable American memoirs and 'back-stories' I have ever read. An unlikely riveting read." ―Hugh Hewitt, Contributing Columnist to The Washington Post, host of the Hugh Hewitt Show
"I am one of the world's experts on the July 30, 1975, murder of Jimmy Hoffa. And, now, Jack Goldsmith―with his brilliant research and beautiful writing style―comes along and tells me a whole bunch of things I never knew about that day. Satisfying his curiosity about his stepfather's alleged role in the crime and through his own personal integrity, Goldsmith has advanced the state of evidence of this unsolved mystery, bringing us closer to a final resolution." ―Dan E. Moldea, author of The Hoffa Wars
"Some people are born into stories and then live them out beyond anyone's wildest
imagination. That's what happened to Jack Goldsmith, one of the era's heroic jurists. His shadow life across fifty years with a mob-connected stepfather tells a larger and essential story about America.
The century-long sweep of Goldsmith's narrative brilliantly wraps Jimmy Hoffa, Bobby Kennedy, and Bush and Cheney―as well as long-awaited revelations about what happened to the Teamster King, and themes of class, corruption, meritocratic mendacity, workin' man's blues, prosecutorial perfidy, and the Mob―around a heart-song saga of Chuckie and Jack, a dad and son who search for love across the divides that have riven American.
This is an extraordinary, muscular adventure story about what's happened to our nation and what's possible for its future. A must-read." ―Ron Suskind, author of Life, Animated and The One Percent Doctrine
"This is an incredible story, plainly rebutting the clear understanding of many that Charles O'Brien drove Jimmy Hoffa to his death, and offering a profoundly beautiful recognition of the nature of paternal love. This book will make you weep, repeatedly, for the injustice, and for the love." ―Lawrence Lessig, professor at Harvard Law School and author of They Don't Represent Us and Republic, Lost
"A dramatic reexamination of Jimmy Hoffa's life and disappearance, presented by a legal scholar with a beguiling personal connection.  … Beyond Chuckie's mysterious revelations, the author constructs a sprawling narrative, capturing how Hoffa—and an impressively rendered cast of gangsters and political figures—unwittingly oversaw labor's decline. … A darkly engaging account of an important, misunderstood epoch." ―Kirkus Reviews